[ Character Information ]
Name
: Ezio Hyouzen
Title
: Reserved for higher rank ninjas from jounin and up.
Age
: 15
Gender
: Male
Birthday
: June 1
Bloodtype
: O
Height
: 6'8" Feet, Weight: 199 Stones.
Appearance
: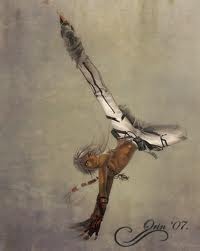 Spoiler:
Standing at 6'10" Ezio is tall in stature his hair is a darkish white and sapphire eyes. Usually wearing his grey jacket. His physical appearance is somewhat muscular and cut. Although not as muscular as most body builders his outward appearance can give those the impression that he does. The clothes he wears are usually the ones that he goes into battle with and thats why they appear tattered and old.
Personality
: Ezio is a calm, energetic person and at times can be a very positive person if the situation isn't serious that is. Although Ezio can at times be stubborn when he makes up his mind, he will listen to others opinions. Through Teleo's eyes all life should be treated with the utmost care, the only exception are those who have caused pain in others lives those who do that are worse then just evil.
Likes
: Respect, woman, friends, good comments about himself, higher ranking ninja, Snow, Attention, The sky, the clouds, People of his village,
Dislikes
: bad mouthing about his parents, being talked about behind hiis back, arragont punks, Disrespectful people,
Favorite Food
: Steak, Rice
Favorite Phrase
: "Now look what you made me do"
Hobbies
: Cloud/Sky watching, Walking through his village,
History
: Ezio was some what a spoiled child which came from his mother but on the other hand his fater was somewhat of a do or die type of person. Ezio loved his parents there was no doubt about that, Ezio's father no and again would teach Ezio different moves to help hone his skills both of his parents over saw his training.
Ezio was always the leader of his little group of friends seeing how he was the one always having to calm them down or help them out in different situations. Ezio enjoyed having friends that were this close to him he could even call them family even though they had no blood relation. Ezio's parents we're killed on his 15th birthday the loss had a devastating effect on Ezio but with help from his friends he learned to coop with the loss. [/color]. [/color][/font]
Dreams/Goals
: To keep his village safe and the people among it/ To keep his village safe and the people among it.
[ Combat Information ]
Rank
: Genin
Village
:Kumogakure
Speicality
:Kenjutsu
Element/s
: Raiton
[ Completed Missions ]
Can be added as they complete them.
D-Rank:19
C-Rank:2
B-Rank:
A-Rank:
S-Rank:
Combat Strengths: Has been trained by the best in the art of Kenjutsu putting him at an advantage on that scale
Combat Weaknesses: Has not really brushed up on his genjutsu thus is very vunarable to it
Additional combat information we should be aware of:
[Inventory Information]
Weapon Name
: Chakra blade
Rank
: Rank of weapon; C
Description
:

Special Effects
: Adding chakra to enhance the blades cutting strength.
Obtained
: Given to him by his sensei.
[Jutsu Information]
The starting jutsu for each rank:
Genin (C-Rank) = 15 Canon Jutsu, Custom Jutsu, Clan Jutsu: Max 7 C-rank, 1 B rank
Chunin (B-rank) = 25 Canon Jutsu, Custom Jutsu and Clan jutsu: Max 10 B-rank and 5 A rank
Jonin (A-rank) = 45 Canon Jutsu., Custom Jutsu, Clan Jutsu: Max 18 A rank and 2 S-rank
Anbu (A-rank) = 55 Canon Jutsu, Custom Jutsu, Clan Justu: Max 25 A rank and 4 S-rank
Kage/Sennin (S rank) = 70 Canon Jutsu, Custom Jutsu, Clan Jutsu: Max 10 S-rank
Jutsu Name
:
Element
: Element that the jutsu requires.
Rank
: The rank of the jutsu.
Type
: Hidden Ninjutsu/Taijutsu/Genjutsu,Kekkei Genkai,Medical,Ninjutsu/Taijutsu/Genjutsu.
Description
: Description of what it does and how it affects the user.
[ Ninjutsu ]
Spoiler:
[ Genjutsu ]
Spoiler:
[ Taijutsu ]
Spoiler:
[ Personal Jutsu ]
Spoiler:
(personal techniques your character has developed; remove section if not applicable)
[ Bloodline/Clan Info ]
Bloodline/Clan Description
: In clan section
Bloodline/Clan Jutsus
: In clan section